------------------------------------------

If you have Login Problems Use the Login in Top Menu Bar

------------------------------------------
If you have a problem registering here, Leave a msg at our FB Page >> Here.
Plz Don't use Hotmail to Register. You might not receive Activation mail. Use Other free mail provider like Gmail or Yahoo.
Recent Posts
41
« Last post by Walter B on January 18, 2019, 02:24:08 AM »
Yeah that was an awesome fight!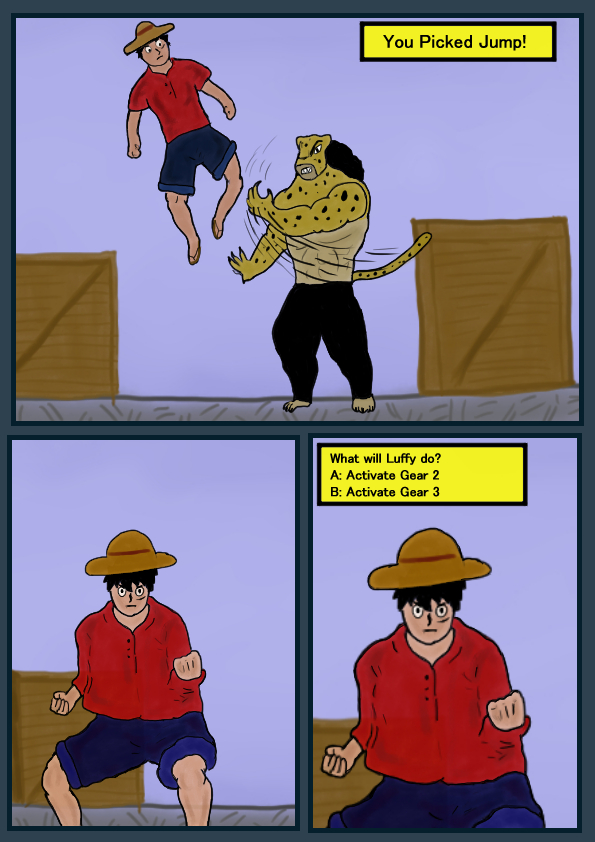 42
« Last post by Coryn on January 17, 2019, 10:36:16 PM »
It is a little muted, but it adds a lot of 'texture' to the characters. Like they're in shadow, but you're getting to see some highlights.

Oh, as for a playlist, I've made one of my own that's about half classical, half Vietnam era rock. I'll send it to you in a pm, since my Spotify account name is in the link, and that also happens to be my real name.
43
« Last post by Aimyraude on January 17, 2019, 09:58:24 PM »
:will also steal: i tried to look where you took that but my brain dont seem to follow sorry, i hope your garden work is not too harsh on yourself here its winter theres no flower
44
« Last post by Aimyraude on January 17, 2019, 09:52:46 PM »
Indeed it's a kind of creep with two distinct personnality. One which is purely emotionnal and tend to be seen as evil and one which is purely logic. The logic side have the same intent in the end but won't show it's cards.

I'm trying to put more accuracy to the clothes i draw. I noticed that inventing without any references was a total mistake because you can't create something out of your mind and that it looks real. It took time to understand that but i finally did and there's no shame to it. My designs literally improved so much i'm impressed.
I spent more time doing his boot than his entire clothes. Like it shows i only used reference on his boots i'm still a rebel artist hahaha

p.s. thanks walter
45
« Last post by suuper-san on January 17, 2019, 06:14:21 PM »
cool idea I've been struggling for years to draw good outfits. will also steal :P

46
« Last post by legomaestro on January 17, 2019, 06:07:48 PM »
Thanks Coryn! It took me like 20 minutes I'd say. It was fun trying it out. I think white is just too stark a colour sometimes. I'll need to look into either that or the brushes I use.
47
« Last post by legomaestro on January 17, 2019, 06:03:05 PM »
Ah cool cool. Well better to build muscles sometimes than brains.

I keep on starting my regimen on random pieces of paper and completely lost track. I'm just starting a new bunch by from scratch.

Also dude just showed me South Korean music videos and damn do they have fashion for days. Music not my thing but they have some pretty interesting outfits. Time to steal.


48
« Last post by legomaestro on January 17, 2019, 06:01:10 PM »
I've always been fascinated by the use of 3d to suppliment your art. The thing is you have to be able to make the lineart and colour readeable at least - or make the background fit your style. I see it done so well in webtoons I've always wanted to do them. My favourite one is the gal on the pillar, and the gal on the sofa because more emotion.

The empty classroom one gives me the heebie jeebies for some reason? Or at least some uncomforteable reminder of some anime that hit me with a lot of feels. Brrr.

Hehe the layers of WIP improvement never end. Tis the way of life for an artist. Means you're doing things right.

Good stuff all around!
49
« Last post by suuper-san on January 17, 2019, 05:59:12 PM »
just my own garden so nothing special there :)

basically its building a huge wooden box the size and height of a bed and filling it with dirt. all carpentry and hard labour XD we're using heavy materials so its heavy going. it's more muscle burn out than art burn out lol
I've been neglecting my regimes a bit though.
50
« Last post by legomaestro on January 17, 2019, 05:57:39 PM »
Man the Lucci fight was epic. Really enjoyed that one.

Jump out of the way of that steamroller