1
« on: December 11, 2021, 07:42:54 AM »
Arachnophobia warning

Spoiler tags have spiders in'em
Spoiler
Spiders are cut because of people with arachnophobia. It's a common phobia.
Spiders used to be a staple enemy in video games. From horror to action-adventure, there are always spiders somewhere
Spoiler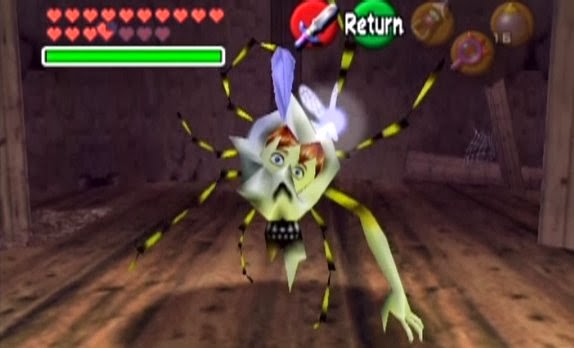 The removal of spiders is not a creative decision. Most decisions are made in movies and video games by test audiences and focus groups.
Focus groups are used by companies to decide how to make the perfect spaghetti sauce and whatnot. Then they found their way into gaming.
Fallout 4 had base building mechanics because at the time all the kids they did focus groups on wanted Mindcraft.
As a company even if 1% of the focus groups say they will not play a game because of the spiders. 1% is a lot of money
Spoiler
When Skyrim came out in 2011 I remember people saying they will not play it because of the spiders. After that spiders started showing less and less in games.
Now if spiders are put in a game they are made to look less like spiders and more like crabs. Fewer eyes, legs less spidery. Because those parts of what trigger the phobia.
To the point now they are scraped from remakes like the Resident Evil ones. I played the Resident Evil 3 remake when it came, it's partly what made me write this. RE 3 remake and FF7 remake are the first games I pick after I stopped playing video games for a couple of years. So I'm noticing how games are different now.
Spoiler
Grounded is a new game with spiders in it. Later they added an option to remove them. Which I think is the perfect solution to please both parties. But most of the time they just cut them outright from games.
Who cares. They are just spiders. Spiders are not creative. I'm glad they are gone. Modeling and animating spiders cost soo much time and money. They don't fit modern games. We have much better enemies to replace them. Be grateful you have a game in the first place. Don't get your knickers in a twist.
Those were some of the counterarguments.
Mostly by gaming journalists. Those people are the worst. Watch FF7 remake world map get cut and them defending that with the same arguments.
It's not just a matter of spiders getting cut. A lot of decisions are made this way.
Like I know nowadays when they make horror movies, they try to make them not too scary. Because it might scare off some people from watching them.
Imagine when they made The exorcist, it was too scary for audiences. so they made it less scary.
Pet Sematary book, the original movie, and remake spoilers
Spoiler
In the remake they change it where the older sister gets hit by the truck. Then said it was to "Subvert your expectations"
Was it?
Or a scene of a toddler getting killed by a truck was too upsetting for audiences. People won't go watch a movie that will upset them. So the movie makers go for the safe creepy little girl trope.

"Subvert your expectations"
Whenever they say things like that, it's just for media consumption.
And I'm consuming a lot of remakes and adaptations lately
Remakes/adaptations serve to show how our beloved media won't be made today. Part of me didn't want to write this, don't want to be the grinch grump. I'm trying hard to not break into song and rant.
It means something to me as someone how loves those media and aspires to create. Horror was my first passion. This feels like a weird form of censorship
Do you guysandgals remember 4kids? In my part of the world, we had a severe case of the 4kids. Now imagine if the anime companies making the shows gave the 4kids treatment to their own shows.
Back then. Watching DBZ heavily censored beyond recognition. Little ol me knew the show is not supposed to be like that. I knew out there in the world exists an unsullied version. One day I might get to experience it.
Playing RE3 remake. Spiders and other monsters cut, areas cut. Character design changed. The story changed. Dialogue is all swearing and fluff. Characters are made into one-dimensional tropes. Zombies made to be not scary. Extra game modes and bones cut.
And most of those were not creative decisions, something I would have respected.
I felt like I was experiencing the 4kids-ish censored version. This time around the uncensored version doesn't exist. Because that's how the company made it. And I feel deep dredd, thinking about how my favorite new media might not even get the chance to be the best version of itself.
TLDR
Spiders cut from media to not scare people with Arachnophobia from buying them.
Companies arrive at those decisions after doing a bunch of test audience and focus groups. It's not a creative decision.
Thinks being cut is reminiscing of how shows used to be censored, except now it's done by the creators.
I'm not against test audience and focus groups, It's a tool, can be used good or bad. The way things going everything might end up vanilla flavored.
Thank you for reading